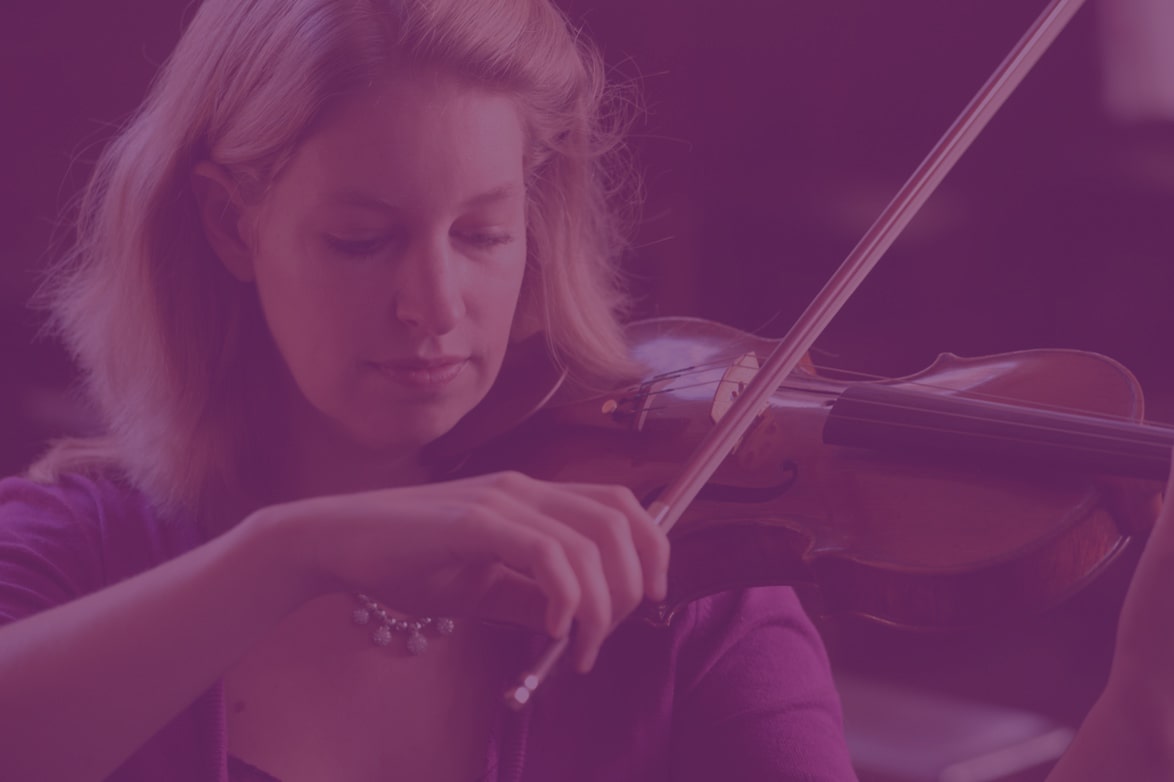 Hi everyone,
The second week of my experiment on playing without a shoulder rest and / or chin rest is almost finished. Here are some updates and some feedback.
I am really grateful that so many people are taking part. We have a lovely bunch of people in this experiment. All very open minded and willing to try new things they never did in this way before. I love doing this research and being in touch with you, and you help me tremendously in this important last part of my PhD. Thank you!
Last week, some more new participants joined as well, welcome! Many people now filled out the entrance survey. Thanks. If you didn't do it yet, please do so before you start the lessons.
Some people are just starting with week nr 1 and some people are finishing week nr 2 already, that is fine. You can start whenever fits your schedule best, just please let me know. If you need a bit more time for lesson 2, that is also fine, I will explain that here under.
If you know more people who like to join, this is still possible through my website. If you missed the newsletter last week, you can still read it here. There is a collection of past newsletters at my website available too.
In this newsletter I will give some feedback on the videos I received this week. I also summarise the interesting Zoom session from last Wednesday. You can watch Zoom session back on the login page where the video lessons are, as well.
Please be welcome to join the Zoom session next Wednesday if you want… Just to meet or to ask some questions. Would be nice to meet up.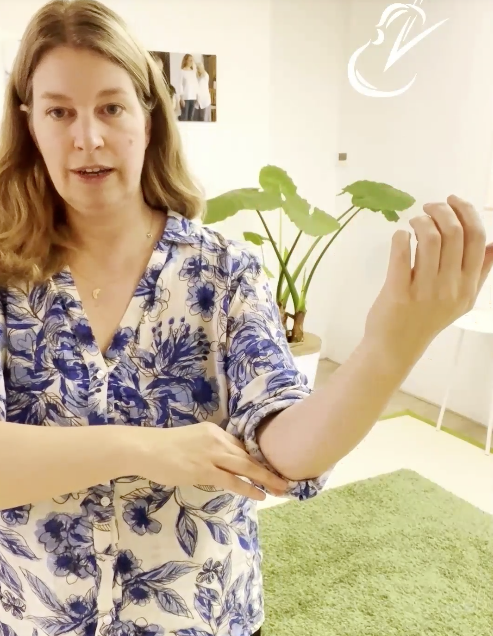 Feedback on lesson nr 2
The assignment for lesson nr 2 was playing open strings while balancing the violin or viola on the thumb. This proved to be much more difficult for most people than I expected, but that is also useful to discover for my research, no problem. So if you feel you need two weeks for this one, please take them. It is important that this basic balance feels safe and comfortable before you continue.
If you just could send me a short message as a reply to this newsletter, to let me know that you will take two weeks time for this lesson, so I know and I can make a note of it. You can upload your videos here, when you feel ready. Please remember that the videos do not need to be perfect, I am not sharing them anywhere and it's just to keep track of the process you are going through. If you uploaded your video already: Thanks a lot and please continue with lesson nr 3.
The feedback that I received from some people, is that the body first is tensing up a bit, because the balance is so new and a bit scary, but that after a while this is easing up and after a while it feels nice and people also tell me that their violin is sounding much fuller, as the whole skeleton is resonating with the wood of the violin. One person called it a 'ringing' sound. So, please keep going if this new balance feels a bit hard in the first days!
One participant is leader of one of the big orchestras here in The Netherlands. Having played concerts during the first two weeks of this experiment, she told me that she already feels much more free and that she is using her head less to hold the violin while leading the orchestra, so that is very nice to hear.
What people generally are struggling with at this moment, are mainly 2 things: the direction of the violin and the relaxation of the wrist. So, as you see on the picture above, please remember the practice from lesson 1 where you keep the position of the elbow and move only the forearm to see where the direction of your violin is. While practising the balance of the violin on the thumb, please don't go to the strings with your fingers. You even can keep the hand almost open, like on the picture here under. If you feel tension anywhere in your arm or shoulder, just ask yourself the question 'Can I do less?' or 'Where am I working too hard?' and you will discover that you can do less and less, until you will find a very comfortable and pleasant way of supporting the instrument.
I am happy to see that most participants really did find a good contact between their instrument and the collarbone, great :-).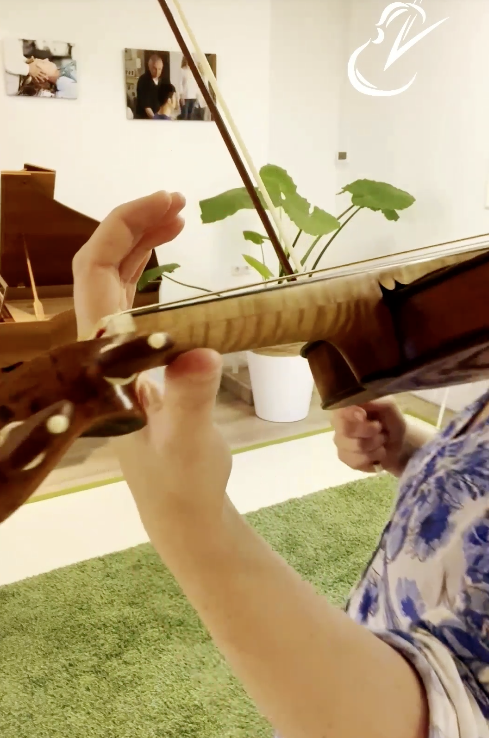 Second Zoom session
Last Wednesday, we had a second Zoom session with some participants of this experiment. It was lovely to meet. If you want to watch it: I recorded the session and there is a link to it in the login page under the video lessons. There will be a list of all Zoom session, for those who are interested and could not attend. Here is a summary:
Daniela Gaidano from Italy was the first participant to join the session. She works as a baroque viola player and also builds instruments herself. She is taking part in this experiment on a baroque violin she made herself and she also builds Violas da Spalla. Recommended! The second participant was Attilio Vampore from Sweden, a modern violinist / violin teacher / Alexander Technique teacher. He told me that he has been playing with shoulder rest for over 40 years, so that this experiment is for him like starting to walk on 'barefoot' shoes (for people who know this), haha! Such a nice comparison…
We talked with Daniela and with Attilio about playing on bare skin and on clothes, and the difference between that. With Attilio we worked on he position of his violin on the collarbone. As with many people coming from using a shoulder rest, I noticed with him that the violin was laying a bit too much towards his left ear, and therefore touching only a small part of the collarbone. This can cause a red skin and instability. We tried placing it just a bit lower, which gave a much nicer contact and more stable position for the violin. When we covered that, suddenly Attilio was able to do the exercise from lesson 2, without needing the support of the side of his first finger, as he did before. Now he could open his hand and still support the violin! He reacted: "Wow, I am very happy I am here today!"
With Daniela we then talked about what is a natural position for the thumb and how to have a relaxed left wrist (not bending outwards). I think we found this for her during this session, it's nice to watch it back if you have time.
With Attilio we continued to have a very nice discussion about teaching violin to children and possibly teaching them to play without shoulder rest from the beginning (and never put one on).
We also talked about several reasons that could have triggered the invention of the shoulder rest. Daniela had some very nice suggestions about historical clothing. Apparently there is a quote from Joachim, where he says "always practice while wearing your collar, even if you don't wear the rest of your shirt, so that your technique gets adjusted to this clothing." So maybe, because of this stiff clothing fashion, people lost the good contact with the violin they had before and needed a shoulder rest?
At last, we also discussed how to use the pelvis and knees, while playing standing up. Daniela told us that she sometimes feels her knees stiffen. We worked on that, I gave some Alexander Technique exercises to do for her and showed some things on my little skeleton.
After that, Attilio asked about my background and how I ended up doing this research, so I spoke about my 3 summers at the Aspen Music Festival, where my teacher there challenged me to play without using a shoulder rest and about my experiences with the baroque violin and my Alexander Technique training later on. I also spoke about the swimming school I am leading, Swim in Balance, where we teach swimming based on Alexander Technique and where people re-learn to swim in an other (more healthy and sustainable) way. This proces is quite comparable to a violinist learning to play without using a shoulder rest after having used one for a long time. We use the same step-by-step approach there as I do here in this experiment. It's about changing habits and learning new skills :-).
It was an hour full of interesting questions and exchanging ideas. Have a look if you are interested! You can find the link on the login page.
Hope to meet you next Wednesday! There is plenty of time to ask questions and discuss anything around this experiment.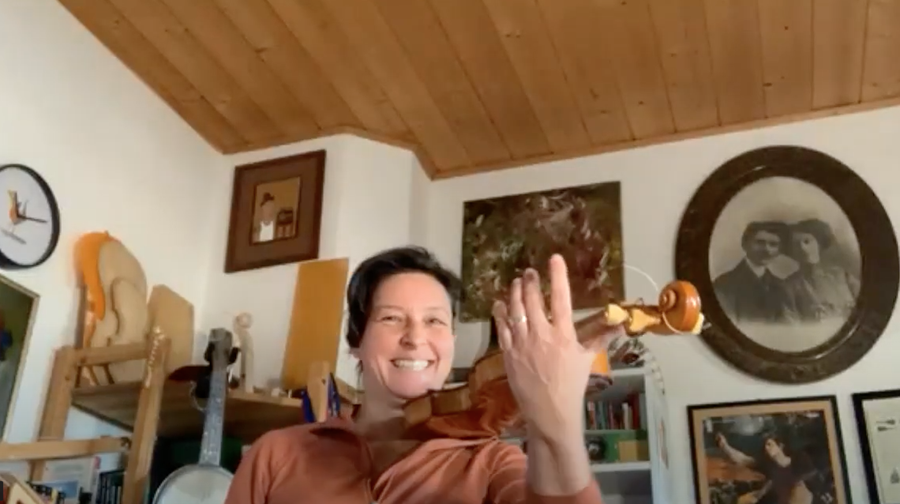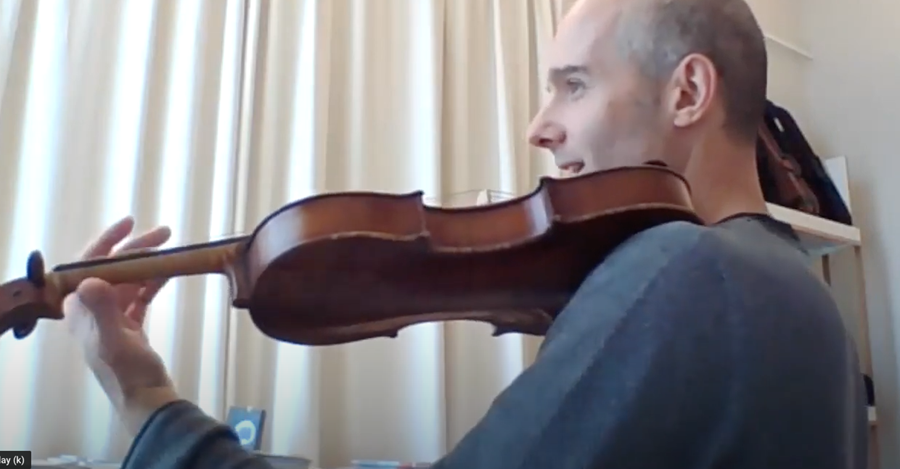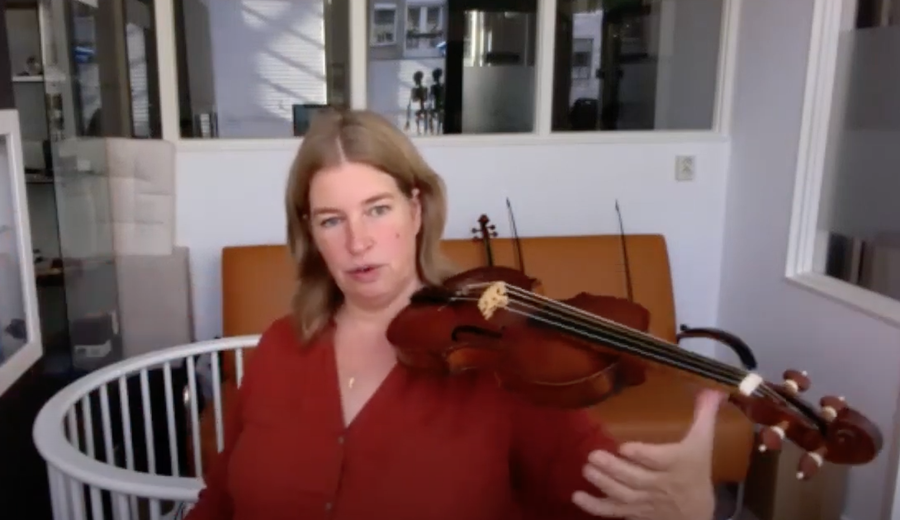 Some encouraging remarks for lesson 3
This lesson is going to make everything easier, because the use of the fingers will give more stability and security.
Please pay attention that your hand stays open, so don't touch the violin with the side of your first finger. While playing the G scale, you will need to get used to the idea that there always needs to be one finger on a string, but in fact this helps the sound of the violin and after a while I expect that you will love it. Also don't forget to direct the fingers in the direction of your heart, as that will stabilise the instrument.
I am really looking forward to receive the videos of that lesson.

Get well soon
A small message to one of our participants in this experiment: Peter Edström, violinist and violin teacher in Helsingborg, Sweden. He is very brave, as he broke his left index finger but still is participating in our experiment, see the picture below… Thank you, Peter, get well soon!
I wish everyone a good coming week, wherever you are in the experiment, and for the people who will start this week: Please do fill out the entrance survey before you start, thanks!
Best regards, please let me know if you have questions,
Esther Visser